RULES
Our clan has very few iron clad rules but the ones it does have are:
Cap every week
Be respectful of your clan mates (both in and outside clan chat)
No swearing or use of derogatory language in chat
No talking about drug/alcohol abuse (its an all ages clan keep the clan chat pg)
Instead of creating many detailed rules to capture every bad thing a clan member could do, we ask you to follow the spirit of the rules. Think about what qualities make for a good clan member and use that as your guide. While they may not explicitly go against the rules actions such as scamming, begging, harassing, spamming and any other annoying runescape or online behavior will be punished as we don't want to deal with that in the clan.
RULE ENFORCEMENT
Amber and Kroz use a democratic system to deal with rule enforcement.
The voting members of the clan are those with keys next to their name, Once explained the situation at hand they discuss and vote on consequences.
Consequences may be: being banned, demotion below avatar warden, or just being given a warning
(as in don't do it again or you are out)
REPORTING A PROBLEM
If you are having a problem with a clan member and no voting members are on, or the conflict isn't happening in clan chat it can be difficult to report or prove who was at fault in the conflict. For this reason we recommend if you find yourself in a situation where a clan member is embarrassing you or making you uncomfortable in anyway:
1) take a screen shot of the chat log and send it to
DragonLair874@gmail.com
2)put that player on your ignore list
3)keep playing until a voting member comes on and them pm them to let them know
Do not:
bring the fight into the clan chat
give him/her a taste of their own medicine
quit the clan before we have a chance to fix the problem
not tell anyone (even if for some reason you couldn't get a screenshot please be open about any problems you are having within the clan)
The Citadel is a HUGE part of the clan.  You
must
cap there every week.  
It resets every Saturday 5:20 central time.  
The citadel is kept up by capping
How to get there
the citadel is located south of Falador, the fastest way to get there is to teleport to Port Sarim and run NorthWest.
To get to the actual citadel you click on the big blue portal and select the option go to my clan's citadel.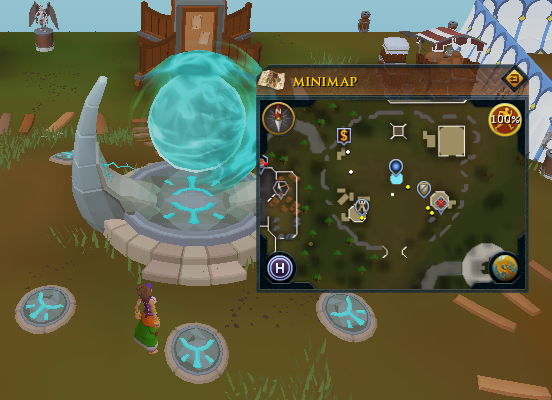 What is there
If you click on the castle icon where the world map usually is will get a map of the citadel that looks like this: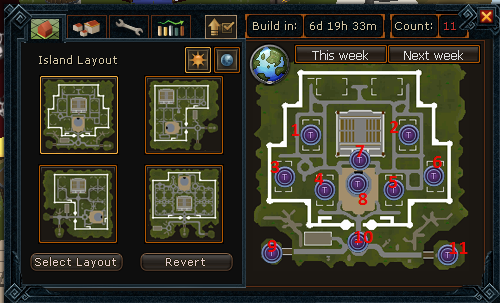 If you click on the individual icons they act as quick teleports around the citadel
Here is what those icons represent:
1-6 are capping plots more on that in the next post
7 is the keep.  The keep has tons of cool features (including the dance floor and stage)  the most notable of which are the bank and the quartermaster on the first floor.  The quartermaster is very useful because you can give him orts if you cannot or do not want to find an avatar to give them to, also he can give you free xp after you have capped
8 is the avatar habitat, this is where the avatar live when they aren't following you around.  The avatars area huge perk of being in a clan and are a huge part of clan life, so important they get their own post in this guide
9 the battlefield, we haven't used it but that doesn't mean you shouldn't, go to the runescape wiki for more details
10 the welcome area, not much to say, a few npcs walking around
11 the portal, you must use it to go in and out of cit, you cannot just teleport out
Upkeep and Upgrades
The map also has tabs to describe what capping needs to occur
to see these details click the golden up arrow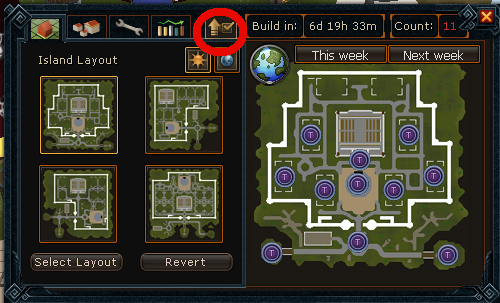 you can use this interface to see what resources are needed for the cit
this tab in the middle show what jobs need to be completed to keep the citadel as is
the tab on the right shows what jobs need to be done to upgrade the citadel
the tab on the left show what jobs need to be done to downgrade the citadel, hopefully we will never have jobs in this tab but if members don't cap and upkeep cannot be met it may become necessary to downgrade to avoid deprecation
Capping is a huge part of the clan that must be done every week by every clan member.
It is also one of the best sources of xp in the game!  The xp rates scale up to your level.  It can feel a bit tedious but it is definately worth the time for both you and the clan
Here is how you do it
How to check if you have capped
you can only cap 2000 units per week and it is important to know if you have capped, here are 2 ways to check:
by your name in the clan chat there is a yellow arrow
click on it and it will expand into a bar with two buttons, the one on the right should have the image of stacked money click on that

then you should get a box that looks like this:
This person has not capped, if under total it said 2000 instead of 0 then you would know they had capped
Alternatively you can go to the citadel and look at your minigame tab, where it says resource cap at the top it should say 2000 or else you have not capped
How to cap/ Learning about plots
Here is the map with all the plots labeled:
| | | |
| --- | --- | --- |
| 1 |         | Summoning |
| 2 |         | Smithing |
| 3 |         | Woodcutting |
| 4 |         | Crafting |
| 5 |         | Firemaking |
| 6 |         | Mining |
1 Summoning
The summoning plot is the Obelisk.  It is the only limited skill plot, you can only do 10% of your cap there.  currently that is 200 out of the 2000 of the resource cap.  Also the resources you create (minions) can be used as any type of resource.  Because of the limit it is recommended you cap here first before moving on to other skill plots.
At this plot there are four pillars, one of them is always lit up at the top, to cap here you must click on that pillar and your avatar will make a praying motion
2 Smithing
The smithing plot is divided into two halves, the precious bars area and normal bars area
it is important to note these two make the same xp!!! the only difference is the output (precious bars vs bars) and the input (coal and precious ore versus coal and ore)
because this plot requires input you may have to put in some time in the mining and/or firemaking area if no one else has.  You can monitor that situation via your minigame tab.
to actually make the bars first shovel ore into the furnace, then when the ore disappears take bars out and put them in the cooling area.
3 Woodcutting
the woodcutting plot is very straightforward, cut the roots of the tree, get wood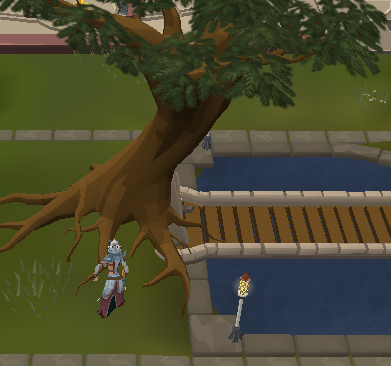 4 Crafting
the crafting area makes cloth, you do so by working both sides of the loom
5 Firemaking
At the firemaking plot you fill both sides of each of the two furnaces with wood. After you fill one side up you must fill the other three before you may fill it again, you get coal here
6 Mining
At the mining plot you just mine.  However the plot is home to 3 different kinds of 'ore' the is stone ore and precious ore.  The bottom layer is stone and the top is ore on one side and precious ore on the other.  When mining remember ALL THREE GIVE THE SAME XP!!! mine based on what the clan needs, you will not get more xp working on one ore than you will another.
What resource should I do?
This is a complicated question to answer.  Your first plot should be summoning but after that it gets tricky. The first thing to look at is in the clan post it shows how to check what it is the clan needs.  the next thing to keep in mind is that between caps if there are "leftovers" only finished items carry over.  Finished items are: stone, wood, bars, precious bars, and cloth.  Unfinished items that will be lost are: coal and ore.  However if we still need bars in the cap it is important for us to have coal and ore to be able to make bars.  
Fealty, What to do after capping
--coming soon--
Last edited by Admin on Sun Sep 13, 2015 11:59 am; edited 1 time in total
Last edited by Admin on Sun Sep 13, 2015 11:58 am; edited 1 time in total
--Space held for future content--
--Space Held For Future Content--


Similar topics
---
Permissions in this forum:
You
cannot
reply to topics in this forum